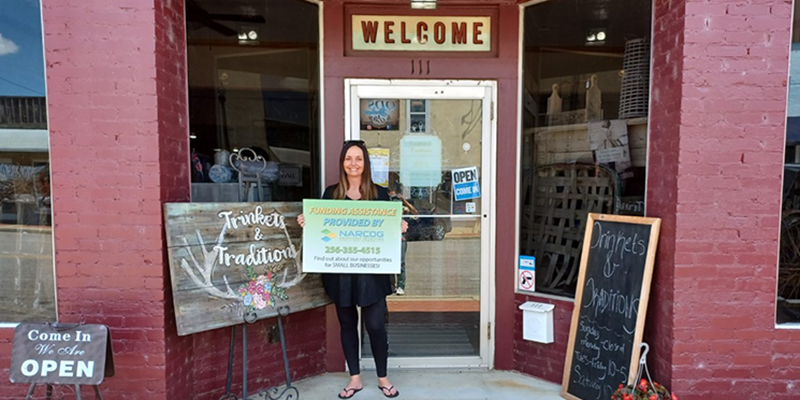 The store draws you in from the time you step through the door. The eclectic selection of merchandise matches the name – Trinkets & Traditions.
The owner, Valerie Hitt, admits she LOVES to shop! She was encouraged by a cousin to open her own business since she was always able to snag the best bargains and find great deals. She finally stepped out of her comfort zone and opened her first storefront in October of 2019. Business was good and she was encouraged by customers who appreciated her style and selection of household items, personal items and antiques. After just a few months, the pandemic closed the business in the Spring of 2020.
Valerie saw this as an opportunity to grow. She reopened in June of 2020 in a more visible location on Commercial Street in Hanceville. The NARCOG Accelerate Business Growth Fund provided funding for operational expenses and inventory. The store is almost four times the size of her first building. All that space meant she had to fill it up! A few booth spaces are rented to individuals offering mainly antiques. Armoires, antique mantels, tables and housewares are all part of the "Traditions".
The larger space has afforded the owner to expand the selection of gift items such as jewelry, candles and Myra handbagsto name just a few. Tea towels of every kind are displayed throughout the store along with comfortable farmhouse selections including pillows, throws and signage.
The NARCOG Accelerate Business Growth Fund is proud to support small businesses across the region. Learn more about Accelerate.