What Are My Nutrition Options?
There are a growing number of seniors going hungry and suffering from malnutrition in Alabama. NARCOG is working to reduce the number of individuals in the region who do not have access to nutritious food or enough food.
There are many avenues for seniors 60 and older to take to receive nutritious food and meals. Our Aging and Disability Resource Center can screen you for programs AND help you apply. Take a look at the options provided for seniors to receive nutritious food and meals:
Senior Centers
Seniors can take advantage of hot, nutritious meals at any one of our 22 senior centers in our Region. Lunch is provided Monday through Friday. Call your local center for hours of operation. There is NO COST to participate in daily activities or to receive a hot, nutritious meal.
Homebound or Frozen Meals
Homebound or frozen meals may be provided to individuals who meet the qualifications to receive meals in their home. 
Senior Farmers Market Nutrition Program (SFMNP)
From January to spring each year, we assist those 60 and older apply for the SFMNP. This program provides eligible seniors with $30 in vouchers they can use at local farmers markets during the summer and fall. You must reapply each year, and a limited number are available each year! 
SNAP
SNAP helps Alabama seniors 60 years and older buy healthy food at the grocery store. The amount of assistance received depends on the individual's fixed income rate, number of people in the household, and high medical or living expenses.
Call Access Alabama - Aging and Disability Resource Center at NARCOG to be assessed for these and other nutrition resources at 256-355-4515.
Nutrition Center Locations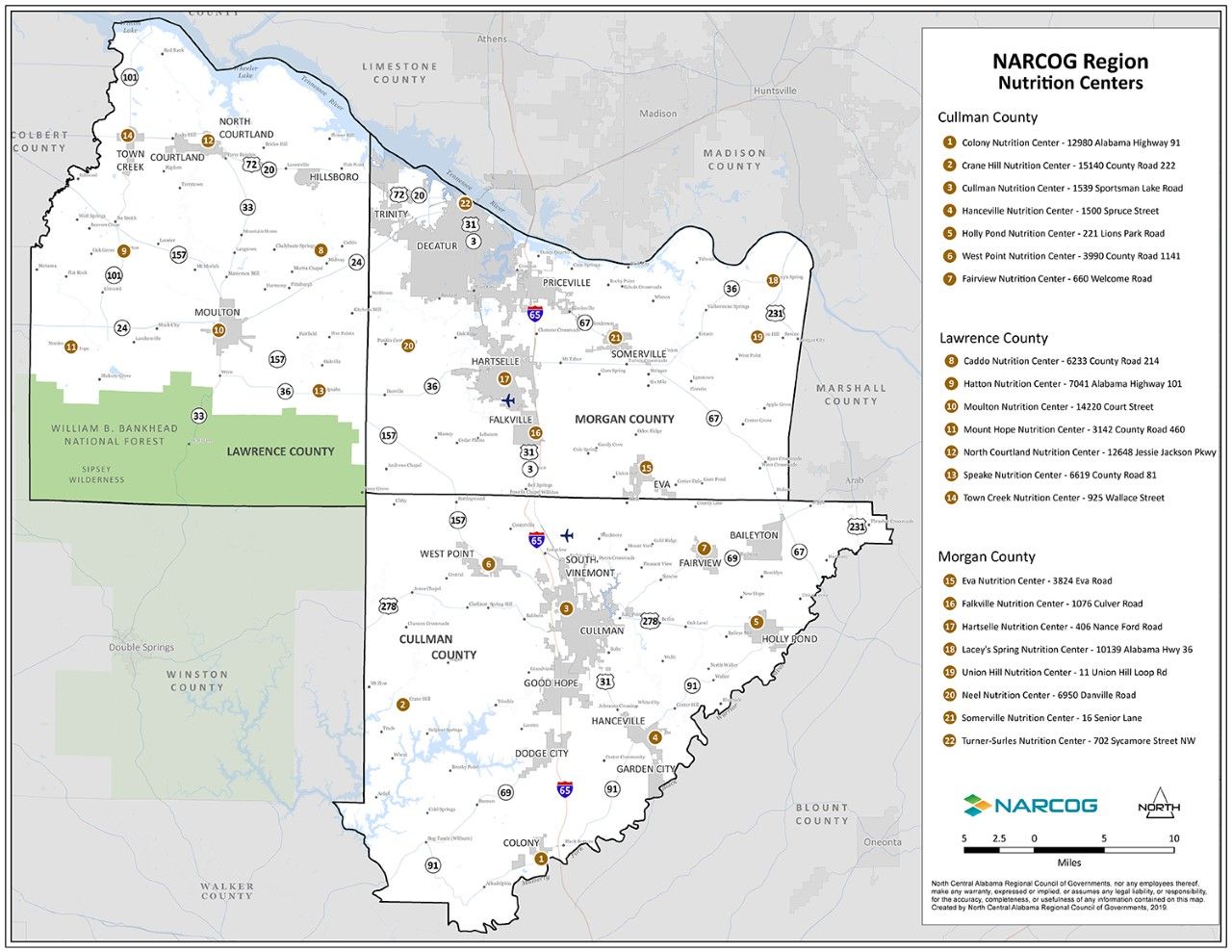 CULLMAN COUNTY
Colony Nutrition Center
12980 Alabama Highway 91

Crane Hill Nutrition Center
15140 County Road 222

Cullman Nutrition Center
1539 Sportsman Lake Road

Fairview Nutrition Center
660 Welcome Road

Hanceville Nutrition Center
1500 Spruce Street

Holly Pond Nutrition Center
221 Lions Park Road

West Point Nutrition Center
3990 County Road 1141
LAWRENCE COUNTY
Caddo Nutrition Center
6233 County Road 214

Hatton Nutrition Center
7041 Alabama Highway 101

Moulton Nutrition Center
14220 Court Street

Mount Hope Nutrition Center
3142 County Road 460

North Courtland Nutrition Center
12648 Jessie Jackson Pkwy

Speake Nutrition Center
6619 County Road 81

Town Creek Nutrition Center
925 Wallace Street
MORGAN COUNTY
Eva Nutrition Center
3824 Eva Road

Falkville Nutrition Center
1076 Culver Road

Hartselle Nutrition Center
406 Nance Ford Road

Lacey's Spring Nutrition Center
10139 Highway 36 East

Union Hill Nutrition Center
11 Union Hill Loop Road

Neel Nutrition Center
6950 Danville Road

Somerville Nutrition Center
16 Senior Lane

Turner-Surles Nutrition Center
702 Sycamore Street
Get In Touch With Our Nutrition Coordinator
Please call Ronette Gravitt at 256-355-4515 or send an email to This email address is being protected from spambots. You need JavaScript enabled to view it. with any questions or for more information.