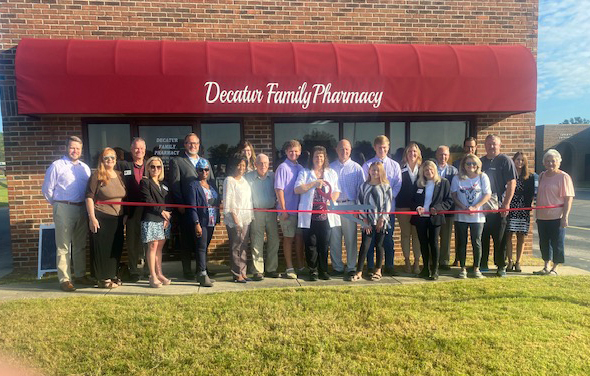 Almeda Borden knew the location was perfect.
Located on U.S. 31 South, in front of the Decatur Ambulatory Surgery Center, Borden's new business, Decatur Family Pharmacy, is in the middle of one of the city's medical hubs.
Decatur Family Pharmacy celebrated its grand opening on Wednesday with an official ribbon cutting from the Decatur-Morgan Chamber of Commerce. This new locally-owned small business was made possible with assistance from the North Central Alabama Regional Council of Governments' (NARCOG) Accelerate Business Growth Fund.
"We're very excited about this location," Borden said. "This is a family business, and we're excited to be open and serving the community."
Borden, a longtime Trinity resident and Auburn University alumnus, is a veteran pharmacist with almost two decades of experience.
Relying on her vast professional experience, Borden not only hopes to help the Decatur Family Pharmacy customers with their pharmaceutical needs, but also plans to build long-lasting personal relationships.
Along with a prescription pharmacy, Decatur Family Pharmacy also has a vast selection of vitamins, beauty products and a section that is designated for gift ideas.
The NARCOG Accelerate Business Growth Fund is a locally-controlled source of capital used to finance start-up and expanding businesses whose projects will result in job creation, leverage private sector investment and reduce unemployment in Cullman, Lawrence and Morgan counties. Both microloans and traditional loans are available through this fund.
For more information on NARCOG and the services the agency provides, visit www.narcog.org, or follow the agency on Facebook at @narcogal.