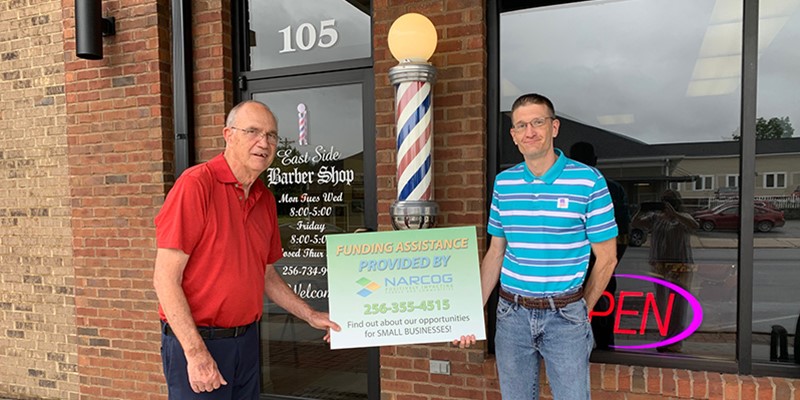 The devastating tornado of April 27, 2011 threatened to put East Side Barber Shop out of business. There was no building left. The only equipment salvaged was an old cash register. The owner, Bo Waldrep and his son Scott were thankful they heeded the warning, leaving the barber shop shortly before the EF-4 tornado struck around 3:00pm.
The business was one of many structures leveled or severely damaged in the storm. They were forced to close for 8 weeks following the storm, but were able to reopen in a temporary location. The Waldrep's made the decision to return to the same location and reopened almost one year to the day after the tornado in a new building on 5th Street SE in Cullman.
The business contains memories from the tornado, including that old cash register. Mr. Bo Waldrep is shown sharing stories and pictures of the tornado aftermath with Business Fund Coordinator Crystal Julien in the photos below. Bo began cutting hair in 1962 when he was just a teenager. It was the first job he ever had. He's cut the hair of three generations. As he put it "we've raised kids together" speaking of those he has served for more than 50 years.
The Waldreps have many long-time clients and Bo and Scott also cater to those needing special accommodations. They provide services to those in wheelchairs, individuals with special needs or those requiring after hours service due to health conditions. The last year with COVID saw a decrease in business. Scott Waldrep said, "it's not back where it was, but it is picking up".
NARCOG is proud to have supported the return of East Side Barber Shop following the April 27th tornado and continues to support the growth and prosperity of this remarkable small business today. Learn more about our Business Growth Fund.