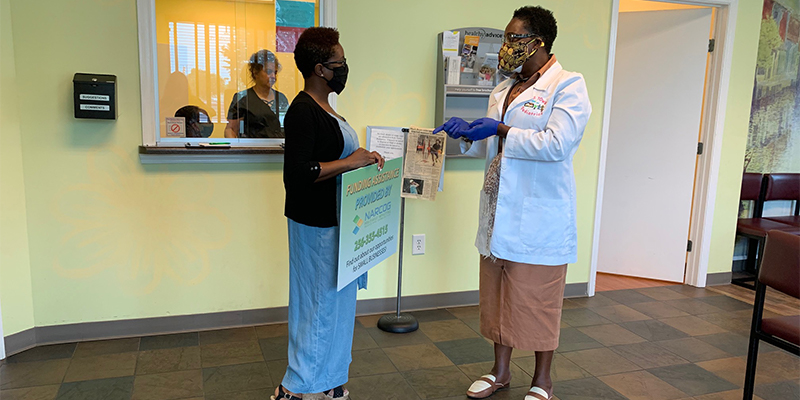 Throughout Dr. Young-Harkin's career, she had been a tenant but desired to have her own medical building. After hearing about NARCOG's Business Growth Fund, Dr. Young-Harkins reached out to the agency about funding a building she was interested in purchasing. NARCOG was able to provide funding not only for the purchase of the building, but equipment and working capital.
Dr. Young-Harkins stated that NARCOG's Business Growth Fund opened doors for her to continue practicing medicine and child/adolescent care. The funding from NARCOG took Dr. Young-Harkins from being a tenant renting a building to a building owner. "Funding from NARCOG has given me the opportunity to build a legacy for not only my family but for my employees and the community for years to come," said Dr. Young-Harkins. Kids Town Pediatrics was recently approved for one of the first EDA CARES act loans through NARCOG. This loan will provide additional funding for equipment upgrades for the practice. When asked what makes Kids Town Pediatrics different from other businesses in the medical industry, she said her employees challenge themselves to be a beacon of light to the community and those they serve. She sees her business as a medical home and gate keeper of health not only physically but emotionally and spiritually.
Kids Town Pediatrics fulfills the general needs of children and adolescents ages newborn to twenty-one. Dr. Me'Lissa Young-Harkins has been practicing for over twenty-five years, and in business since 2006. The practice currently employs seven. Three of these individuals began working under Dr. Young-Harkins while participating in a high school program. Their work led to careers in health care and advancement to becoming Nurse Practitioners and RN's. Dr. Young-Harkins uses her passion to not only serve newborns and adolescents, but to teach and inspire those who work under her supervision.
Kids Town Pediatrics
1802 Presbyterian Drive SW
Decatur, AL 35603
Learn more about the NARCOG Business Growth Fund.
Photo: Crystal Julien, Business Fund Coordinator and Dr. Young-Harkins